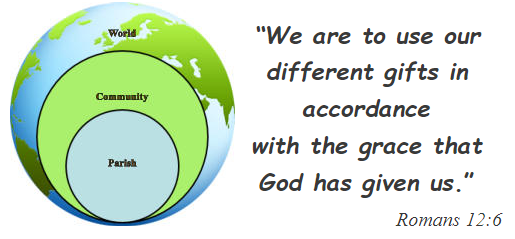 Opportunities in the Parish
Opportunities in the Community
Parish Partnership Collection – This frequently supports Friend, Inc., (Kutztown), The Ecumenical Kitchen (Allentown) and St. Vincent de Paul Ministry.
The Potato Project – Spring planting and Fall harvesting of crops. Contact: Louise Olsheski atlolcsw@ptd.net
Habitat for Humanity – Volunteer to help with construction or work at ReStore selling furniture or home goods. Go to: www.habitatberks.org/volunteer/
Kennedy House Soup Kitchen– Our parish serves twice each year.  Please watch bulletin for dates.
Pennsylvania Catholic Conference Action Network – Become an advocate for human life and dignity in Pennsylvania. To sign up for action alerts go to: Go to site
Opportunities for the World
Pro-Life at Every Stage – We proclaim that human life is a precious gift from God; that each person who receives this gift has responsibilities toward God, self and others; and that society, through its laws and social institutions, must protect and nurture human life at every stage of its existence.  To learn more, go to https://www.usccb.org/prolife
Heifer Project – funds are raised each Sept. at the Spaghetti Dinner. This organization promotes self-sufficiency by providing sustainable livestock and other resources. To learn more go to: www.heifer.org
Join Catholics Confront Global Poverty – and advocate for our brothers and sisters in need around the world. Go to site
Learn more about Catholic Social Teaching – Go to site