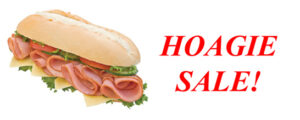 The Men of St Mary's is sponsoring a Hoagie Sale, with proceeds to support the parish!
Orders can be submitted starting April 8 and must be submitted by 9am on Sunday, April 23.
Sandwiches cost $6.00 each.
Orders must be picked up at the Religious Ed Center on Wednesday, April 26 between 7:00pm and 8:30pm, or on Thursday, April 27 between 7:30am and 9:30am.
To place your order, you can use the paper order form available in the bulletin at church, email the order to stmarysubs@gmail.com, or use the online order form can be found HERE
Or scan the QR code that follows…